Social Gems from the 2014 ROC Awards
June 9, 2014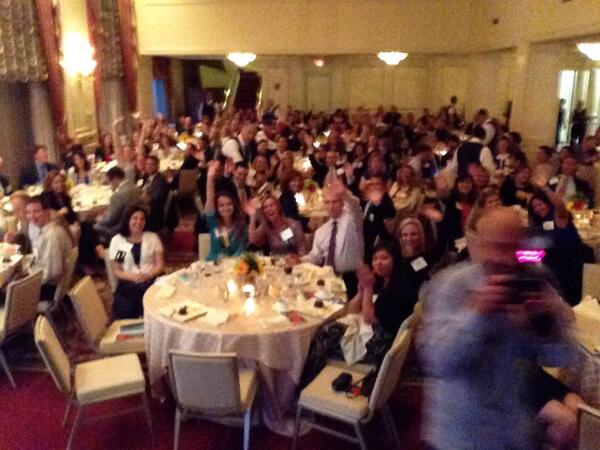 The 2014 SMPS Boston ROC Awards was a truly enjoyable evening, celebrating the best work that the members of our chapter did in the past year. Click here to see the rundown of all the winners!
Thanks to a knowledgeable panel of judges and the amazing work of our Awards Committee, SMPS Boston was able to Recognize Outstanding Communications in style! And being the highly-connected marketers that we are, many members of the chapter posted a virtual highlight reel to social networks as the evening went on. Here are some of SMPS Boston Outlook's favorite posts from the event!
2013-14 Communications Committee chair and 2014-2015 President-Elect Anna Luciano of Nitsch Engineering instagrammed this stylish shot with some of the stars of her committee:
New England Real Estate Journal's Eric Wilson reported on the scene at cocktail hour:
Michael Pelletier of Geocomp Corporation kept the @SMPSBos twitter handle humming all night, while still carving out some time for a cocktail with PJ Roscoe of Jacobs:
Photographer extraordinaire Frank Monkiewicz tweeted out the celebrations as Mark Guarino was named Marketing Professional of the Year:
Ali Ross and the Stantec marketing team got together for a selfie after racking up some honors:
Chapman Construction shouted out to Margulies Perruzzi for winning the Holiday Piece and People's Choice awards with their extremely memorable video…
…while also capturing themselves having a great time!
The CDM Smith marketing and communications team was in high spirits:
HLB Lighting celebrated their first place win for Brand Identity:
Acentech, which knows from loud noises, gave a holler to our wonderful sponsors:
Allison Andrew of Aria Marketing, who live-photo-blogged the entire awards ceremony in most impressive fashion, captured the celebration as CBT Architects claimed Best in Show honors:
And we saved the best for last: Emcee Judy Nitsch of Nitsch Engineering "pulls an Ellen" with an epic podium selfie:
Stay tuned for great photos from the awards, as our ROC coverage continues…